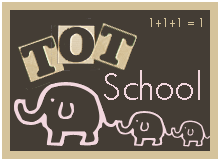 This week in Tot School, the grassy letter G!
We did a lot of work with homemade musical instruments. We were inspired by a library book,
Max, the Music-maker
. First we filled glasses with different levels of water and tapped them with spoons. This somehow morphed into a pouring exercise in the bathtub... I love that about Tot School. You never know where a project might lead!!
We made a cardboard flute, harp, and guitar. They look awful, but the harp and guitar actually worked pretty well!
G for guitar!
G for gingerbread cookies! And, of course, we read the story of the Gingerbread Man!
G for granola! This is delicious homemade. I could live on it, and Crumpet loves it for a snack.
We made paintings by rolling marbles in paint, and dragging string through paint.
We made sculptures using marshmallows and toothpicks. I saw this at Blissful Moments. Great fun, until Crumpet ate all the marshmallows!
I filled plastic eggs with a variety of objects - 2 with pennies, 2 with beans, 2 with rice, 2 with water, and 2 with salt. Then I separated them and had him match them by sound. He was really quick to figure it out! (This is a project found in several toddler project books, and I've seen it on a couple of blogs.)