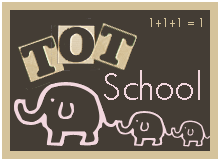 First, let me say that for me, there is a huge learning curve with this blogging stuff. I cannot seem to add pictures properly or get the layout the way I want it. So if this looks awful when I'm done, just know that I'm working on it!
So, Tot School. Tot School is one of my favorite blogs. It provides wonderful ideas for preschool activities and includes lots of Montessori-type projects. It is the blog which inspired me to start blogging to keep track of our school work. At the end of each post, there are links to other blogs doing Tot School, so you have access to a ton of project ideas. Be sure to spend some time at this site looking into her Tot School Tools, etc.
So after all that, here's what Crumpet did in Tot School this week:
We finished up the letter B by making capital and lower case B's with banana shapes.
We started on the letter C. For our baking project, we made the Father's Day cupcakes I blogged about earlier.
The main C page for our alphabet book. 'Colorful Circle C's'.
For exercise, we tried out a kid's yoga DVD from Netflix. Crumpet has seen me do yoga and got a kick out of exercising like Mommy. This is "tree pose". Or something like it!