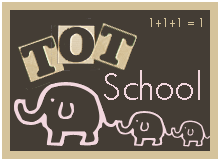 This week in Tot School:
We worked on the letters H and I. We put hand prints on the H's, created a House and tree from shapes (Crumpet glued them on, so it looks a bit like the house has been hit by an earthquake...) and we made an ice cream cone complete with sprinkles for our I.
We went on a Hunt for Insects.
We played with puppets a lot this week.
Crumpet decided to sort his diapers (sigh,
still
in diapers :)) by pictures, and then we counted them and talked about more and less.
We learned about how the Earth's rotation causes day and night using a flashlight and a globe. Crumpet thought this was really neat. (from "Slow and Steady, Get me Ready")
We finally tried painting using spray bottles.
We built a lot of forts this week.
We practiced taping a variety of objects to paper. Crumpet found this very difficult and gave up quickly.
Crumpet loves making pretend cakes with playdoh and blowing out his birthday candles.