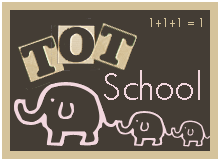 Hi! We had a good week in Tot School, despite the fact that Crumpet started out the week refusing to participate in any activities I suggested.
We worked in Crumpet's Kumon tracing book. At first, he would only drive his cars through the mazes. But then he did some practice work with a pencil.
We practiced counting and adding the right number of beads to our numbered fish.
He helped me vacuum several times.
He learned a very important life skill - how to sharpen crayons! He thought this was fabulous, and of course, wanted to sharpen ALL of our crayons...
We did a lot of painting this week, at Crumpet's request. We found this giant pine cone at the playground, and he wanted to paint it.